Wealthy Mind Investments is delighted to announce the launch of our new and improved website. The updated design and layout show how we help investors create passive income through real estate and make it easier to contact us if you have a question. Our new site went live on June 10, 2020.
If you haven't had a chance to check it out yet, let us know what you think. The user-friendly navigation allows you to research who we are, how we work, and our portfolio.
In addition to a new look, we are expanding our education section. Since we are dedicated to helping busy professionals, we want you to have access to all the information you need.
4 Exciting Features of the New Website
1. Free Resources
At Wealthy Mind Investments, we know there are many paths to financial freedom, and real estate is among the best. Our new site provides free resources to help investors understand how they can benefit.
We host a live Meetup every month. If you haven't joined us, you can sign up to receive invites here.
You are also welcome to download our newest eBook, The Busy Professionals Guide: How To Build Wealth and Create Financial Freedom By Investing in Real Estate Syndications.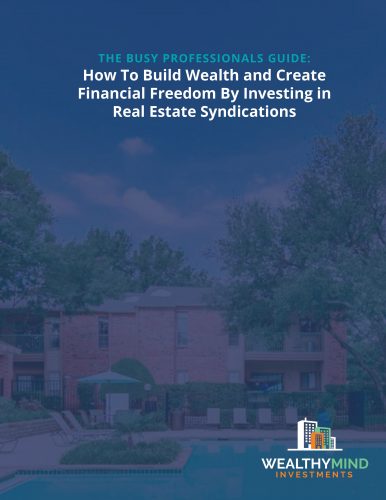 2. Educational Content
We know some people prefer to read while others enjoy audio or video, so we produce regular blogs, podcasts, and videos to keep you informed. Stay tuned for new content every month.
Feel free to peruse our resources. If you want more information on a specific topic, reach out and let us know. We can answer your questions and add your suggestion to our upcoming content.
3. Links to Our Social Media Accounts
Our social accounts are another way to stay up-to-date with upcoming webinars and new content. You can follow us on Facebook, LinkedIn, YouTube and Instagram.
4. The Wealthy Mind Investor Club
If you're not already a member of The Investor Club, it is the only way to access our investment opportunities. You can join for free and receive updates about new properties we are offering. 
We don't just recommend our investments; we also actively invest. Working with our network of experienced and successful multifamily Operators, we do the due diligence for you – including flying out to see the property if it's outside of the Silicon Valley area. 
Once we're satisfied with the potential of an investment, we notify our club and invite you to a live presentation where we share the details of the investment opportunity, introduce the local Operator, and answer your questions.
Wealthy Mind Investments
If you aren't familiar with us, Wealthy Mind Investments is a Silicon Valley, CA-based firm dedicated to helping busy professionals build wealth and create passive income through commercial real estate investment. 
We take the headaches and hassle out of real estate investing through carefully vetted syndicated (group) investments in multifamily properties, each operated by experts in their local market.